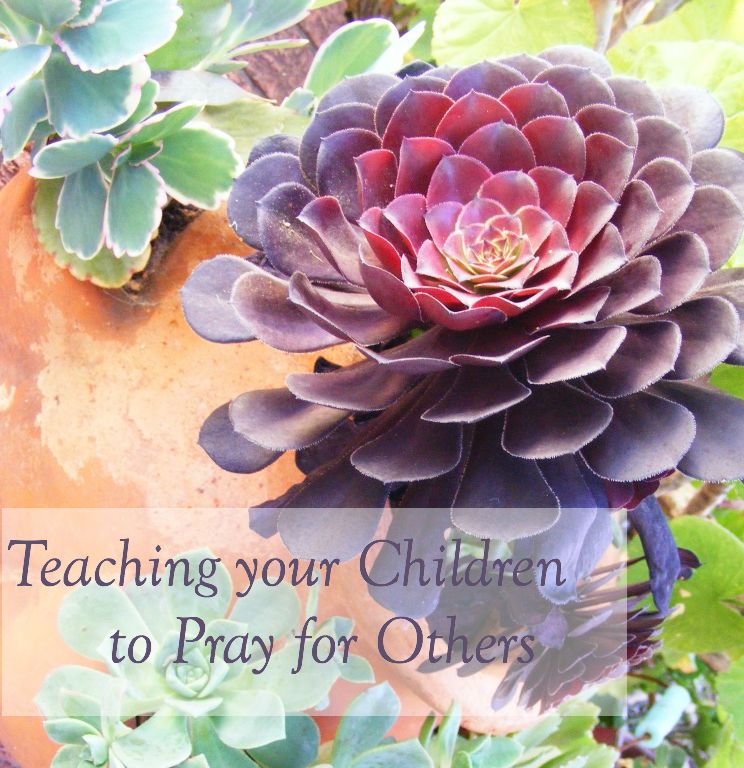 I'm sure the title of this post inspires you to give a big fat "yeah…duh." It does for me too. Except, when I stopped and thought about it a while back, I realized that while shooting up a quick prayer here and there is natural for me, the prayers are largely silent. Except for the occasional God, help me prayer. I don't sit down with my children (who are too young to truly understand yet) and get them involved in praying very often unless it's at the dinner table. Fine, they are young. But the younger the better because then it will have always been natural. There are many things that will break our hearts in this world and when we think we can do nothing to help, we can still pray. Prayer can seem futile since we are not "doing" anything, but I believe that prayer is often the absolute best thing we can do. 
I believe that God answers prayer and that He wants to answer the prayers of our little children too. First, because He loves them. Second, because He wants to reveal Himself to them and prayer is a great way to do just that. Here are a few simple ways to get your children involved praying.
(1) Prayer sticks. I spoke about this in my S-E-A-M-S article (under S for Spiritual Mondays). My mother made us popsicle sticks with family members' faces on them and names. My 2-year-old can name them off by heart – some pronunciations are uniquely her own – and just today we went through and prayed for them. Family who had needs I was aware of I said a prayer for and others, I said general prayers. She understands that the words prayer, thanks and Jesus go together and she interjects her own words throughout as well. It may seem futile now since she probably has no clue about what I'm doing, but I hope that it will just become normal for her to sit down and think of others and pray for their needs.
(2) Use real life experiences as examples. As our children get older they will be exposed to many situations that would benefit from prayer. Friends will have problems, people will pass away, and there will be unmet needs. These are chances to sit down and have a time of prayer with your children to show them that God cares. You can find scripture that is relevant to the situation and read the bible verses. It will teach your kids that you believe the Bible has answers and that you believe God hears our prayers. When situations are out of our control we must go to God. This will help teach our kids to trust Him and to learn that God answers.
(3) Be sure to praise answered prayers. I had a practice a few years ago of periodically going through my prayer journals and highlighting prayer requests that God had answered. I was flabbergasted at the number of prayers that I had written out (and, let me tell you, I freely ask and have always had many requests) that had been answered. Now, I'm not saying I got my way all the time, sometimes far from it. But issues or situations and circumstances and heartaches that I had poured out to God had been resolved. God had answered prayers. He had provided solutions. He had heard me. It was so encouraging. I think we should do this with our children. When our prayers for our family and others bear fruit, we should be sure to remind our children of their prayers. This will help reinforce their budding faith.
(4) Lastly, it just helps us to teach our children that life is not all about us. Children think life is all about them. Younger children don't even know that life exists outside of the present want or desire. Taking time to stop and think about others will set a good example to our children and help remind us that life exists outside of our daily battle to make it until bedtime. Or the weekend. Or the next vacation. Thinking about others' needs and bringing them to God will also give your children a chance to think about what they might be able to do to help. I bet your kids will surprise you by their ideas! When children's attention is brought to the needs of others (and purposefully drawn away from their own) they are often very compassionate and empathetic. This is a great time to begin teaching them that part of our journey as Christians is to pray for, help intervene on behalf of and – when we are able – rescue others from despair and bondage.
*Read about the Raising Rescuers vision here!