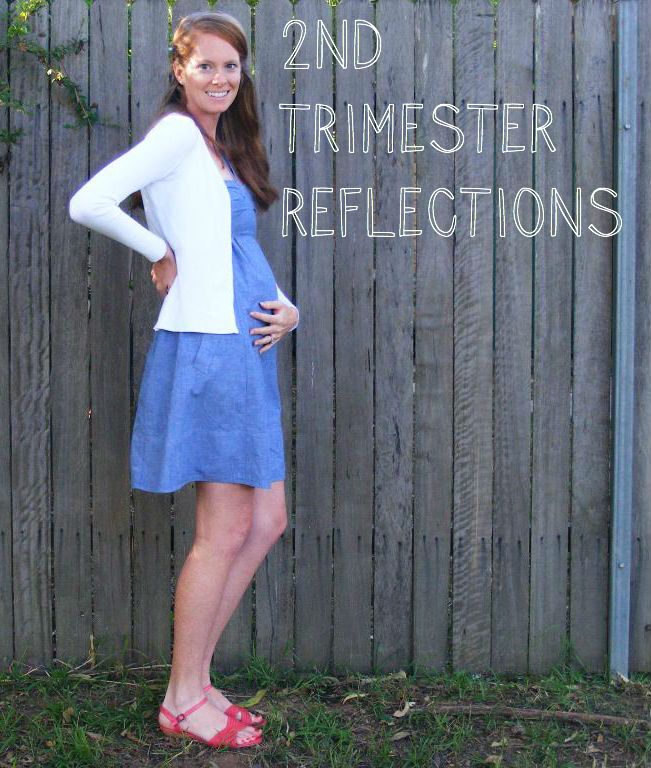 I'm just passing the mark into my third trimester. It is the final stretch but still, 40 weeks minus 26 weeks equals 14 weeks. That is a lotta weeks left. I am always amazed at how different and clear each trimester transitions into the next. If I hadn't known how far along I was I would have been able to tell you almost to the day just by the changes in my mood and level of tiredness.
Some second trimester thoughts.
(1) It's like the eye of the hurricane. I'm from Florida which is hurricane country. Basically, as a cyclone travels over town you experience one side, then you may (depending on where you are) see calm and rest as the eye passes over you, and then you get the other half of the hurricane. Pregnancy is often like that. First trimester can bring nausea, vomiting, severe fatigue, lethargy and on and on. The second trimester comes and – lo and behold – we're human again. Still fitting into most clothes but showing enough to feel kinda cute! Not whale size yet and swelling usually hasn't gotten terribly underway. It's like a period of rest so you can settle down and store up the much-needed energy and stamina for what's next.
(2) Perfect for exercise. I know it's hard to exercise at all, much less pregnant. I wrote recently on Finding time to exercise, but for me the second trimester has always been one where I can shore up a little fitness. I am energetic enough to be active and not so far along that walking too far feels like I'm going to drop a basketball out of my dress. First trimester I try to keep moving, but this pregnancy in particular I had major – and I mean major – fatigue and lethargy and cried having to walk to do the dishes so exercise was at a minimal. During my second trimester this time I did an amazing prenatal video and walked as much as possible. I felt like it got me into a decent shape that, with some effort, I could attempt to carry through to delivery. As I've repeated many times, delivery is pretty much the most physically exhausting and trying experience ever so I like to be as fit as I can for it.
(3) Finding out the gender. Having immigrated I have noticed something. In the US it is almost a given that you find out the gender. As in, it's very odd and surprising when someone doesn't. In the UK (where my daughter was born) and here in Australia (where my son was born) it is almost the opposite. Or at least, half and half. I've found out with each pregnancy but reckon if I'm lucky enough to have a fourth child I'll want to be surprised. Most people just get some basics on hand and prepare as much as they can and then go with the surprise. I had an American friend one time say, "I guess they do it for surprise. But you know what? I'm surprised at the ultrasound." Ha. Either way I think this trimester is great because you get to see them on the big screen again, hopefully get to see that they're developing normally and as they should be, and you maybe even get to start picking out names.
This trimester is a precious one for me particularly in this pregnancy. The first trimester I found myself in extreme anxiety. Almost immediately into the second trimester I felt better and then I put into place many anxiety reducing household management practices to help keep it that way. Then, as I'm passing into my third trimester I'm starting to experience depression. I tell you, hormones are a doozy. I've heard it said that "hormones don't lie" but simply exaggerate an issue. Well, I am beginning to think that all this child-bearing is starting to make me a crazy woman. In more ways than one :)
Read related articles 1st Trimester Reflections, Parenting without External Support, What I 
Learned as a SAHM with an identity crisis, and Finding time to Exercise
I've created a free email series just for you! I've been pregnant 5 times, given birth in 3 countries, and used both doctors and midwives. I've learned a thing or two. This series is designed for mothers who need more rest and parenting coping strategies during pregnancy, getting ready for labor and delivery and, perhaps most importantly, how to communicate your wishes and desires to your friends and family postpartum.
After this free series:
you'll find more rest for your growing body
you'll "own" your birthing experience and know how to communicate your wishes
you can plan for (and prepare others) for the postpartum period and what you'll need to care for yourself and the newborn properly
Click here to sign up for my free email series or simply click on the image below.
New to this community? Start here, friend.