Curly hair tips for those of you (and your daughters) who need to tame the frizzies!
The reason there isn't a picture of my daughter is that she has straight hair. And it's blonde. And she's tan… it's a cruel world, people. However, I know there are plenty of you straight haired mamas who have curly haired daughters and need some help!
Curly hair is not easy. It is not "oh just wash it and be free." It is mysterious, tricky and hard work. It took me forever and ever to figure out how to take care of my curly hair and I still can't quite predict if it will turn out or not.
When kids are young the curls will take care of themselves, but as they grow older then curly hair will need attention that straight hair does not. If you want to save them a lot of time and effort then try these tricks. Plus, I'm hoping some of you curly haired beauties can chime in on some tips of your own. Let's all learn something here, shall we?
1.  Do not ever ever – I repeat ever – brush out the curls.
If you tell me that you brush out your curls and they don't look frizzy, well, frankly I don't believe you. And if you actually are telling the truth then you are the luckiest curly-haired woman I have had the pleasure of knowing. But first ask your friends, you may find that it is actually frizzy and you're in denial. Anyway, strands of hair naturally group together to form curls. If you brush out your child's hair then you are separating the strands from their natural groupings, thus creating space which causes the dreaded frizz or this look, except not nearly as classy. If they need to brush it, then brush their hair in the shower so that afterwards it can be wet, and the hair will naturally separate on its own again.
2. Part it as desired in the shower. 
One thing that used to "do my head in" (pun intended) was styling my "part." When you separate your child's curls to create a part, that area will look frizzier than the rest of their hair. My hair would curl nicely everywhere except on the top of my head, right where everyone first lays their eyes. I started washing and conditioning my hair, then parting it as desired while still in the shower. After it was parted, I wet my head again so the curls would form together naturally.
3.  Don't turn your head upside down or stick it up in a towel. 
Okay, so you can carefully turn your head upside down. The key here is to avoid doing anything that artificially separates the curls from how they naturally form. The best way I've found to towel dry my locks is to simply blot them like I would a stain. This way excess moisture is being absorbed, but you aren't separating the curls. Now, if I plan on straightening my hair I'll do all of the above because it won't matter. However, if I plan on wearing my hair down and curly, I'm careful.
4. Find the right gel, mousse or combination. 
I could never make mousse work for me. It always made my hair look wet in random places, even after hours of wear. Parts were shiny slick and others were frizzy. I found a no frizz gel that prevents fly aways and actually makes my curls look more natural. Or rather, helps the natural wave of my curls be the spotlight. This will take some tweaking and probably require you buy a few products that your child tests over time.
If you live in a cold climate and shower in the morning, then you'll have to find a product that can be used and then lightly blown dry so they don't leave home with a wet head. (Side note: when I lived in Italy they were very adamant you should never have a wet head, even in the summer. Once I saw a mother at the beach change her toddler's swimming trunks every time he got out of the water so he never had on wet shorts…weird.)  I will use no other gel than the above mentioned and now that I'm living away from home, I get my mom to send it to me in bulk. Thank you, mother.
I know curly hair can have that "wild, crazy and free" look that is beautiful. However, I never could make that happen. Without the above tricks mine just looked "insane, psycho, and on the loose." So that's it. Even with these tricks, the curls may still do their own will and leave your child helpless. But, at least you gave it your best effort. Straight hair is relatively easy to handle, curly hair requires a crafty hand.
If you start practicing these things with your curly-haired children early then they might be the only ones in 7th grade who can pull their hair off. Do you have any tricks? Can you air dry and prevent frizz? Do you sleep with wet hair or wash it in the morning?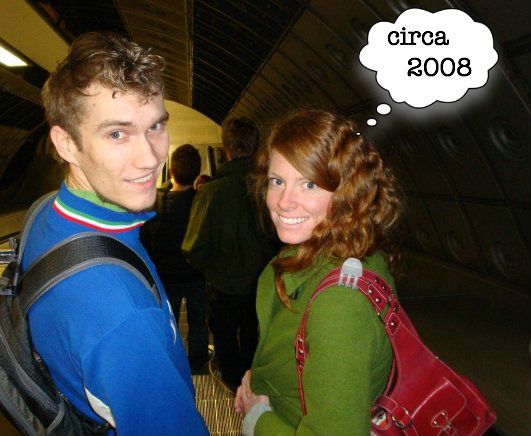 That's the hubs and I in a London tube station on our way to Hillsong. Both, rocking the curls.