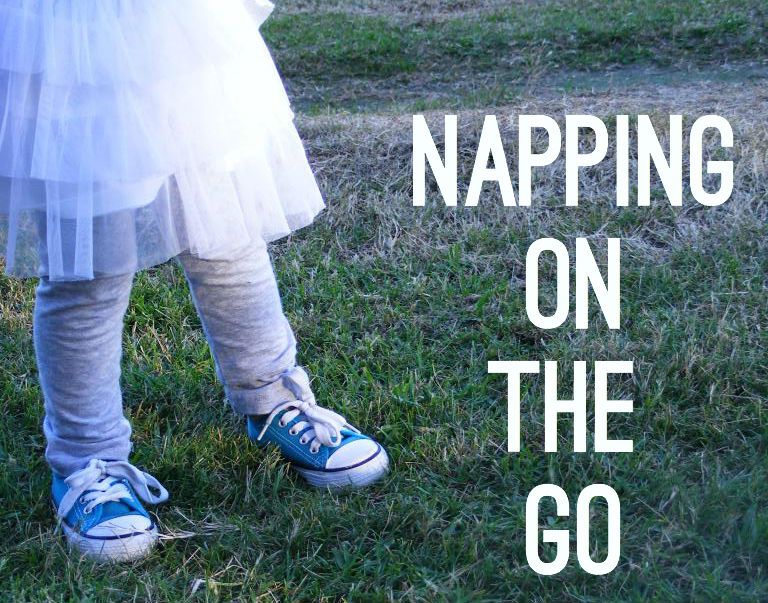 Little by little we are going to tackle some travelling and vacation issues that arise with small babes and tots. A reader requested a post on napping while out and about and I thought it would be a perfect thing to delve into. I want to get into how we can learn to get our toddlers and baby napping on the go. This is where it's important to note that some families will find vacation with babies and small toddlers easy breezy if they are accustomed to impromptu naps in the car or stroller, and if their children are on a "go with the flow" daily routine as opposed to a more structured schedule.
If you're like me and have a pretty good and tight (though with flexibility, of course, when called for) then napping is often a big struggle when the scenery and routine changes. Therefore, this post will be geared to those of us who have small babes and toddlers who fall asleep easily in the crib at home, but are a little less – hmm…shall we say cooperative? – when out and about.

Here are some vacation and napping tips!
(1) Sacrifice an adult. 
My husband and I – and other family members if they are with us – usually decide that for the afternoon nap (since it's around 3 hours) we'll sacrifice an adult who will stay with the children to sleep. This may be difficult if you are on the go or in a big city and have limited time so you aren't spending any of it in the hotel, but for the types of vacations we take in this season of life (visiting family, the beach, etc.) we find this fairly easy.
Around 1pm, one of us put the kids to sleep and stay in the house until they wake up. Afterwards the others come back for us, if they ever left, and then we all continue on. It almost ensures that the kids are in far better spirits than if they missed their naps and it means that one adult doesn't always have to do it.
(2) Time drives and "boring" events appropriately. 
If there are car rides, museum trips or long walks in the stroller that are bound to happen, time those around the regular naptimes. That helps lead your "horses to water" so to speak. If they are already tired and find it easier to sleep with motion then this could potentially be a way to squeeze a nap in without having to return to your accommodation. If you give them pacifiers or drinks to fill their bellies, cover the stroller with a blankie, etc. then just start strolling or driving and hope for the best.
(3) Do an every-other-day activity plan. 
If you are going far enough away and it's big enough of a deal that you can't sacrifice 3 hours each afternoon, why not try an every-other-day nap in the crib plan? You can still sacrifice the adult and let the older kids go have their fun, but this way at least every other day the kids will get a good nap that'll help them stay with the fun. Towards the middle of a week-long trip too many missed naps will make smaller babies pretty insufferable miserable, so there really must be some avenue for them to rest properly. This still leaves plenty of room for fun  as well as some room for a siesta.
(4) Break a few rules. 
When I really need my kids to sleep I forget about the normal "rules" I have in place to prevent dependent sleepers and I go for broke. I will rock, sing, shush, and give a paci long past operation-paci-removal. I'll bribe or cojole or push the stroller back and forth. Look… I'll do what it takes to keep a tired baby from getting overtired and ruining everyone's fun. It's only vacation. It isn't real life. It will end. Real life will come back and you won't have done permanent damage!
(5) Count the costs.
Be sure your holiday choice is "worth" having overtired tots. A friend was recently contemplating making the trip from Sydney to New York for 10 days with their two under 2. They decided against it for various reasons, but after we recently made our 24-hour voyage I have to say that is a good move. It takes a week to get over jetlag of that sort and the kids are out of whack, out of sorts and so are you.
To have a good time on vacation everyone needs to be in a relatively good mood. This will require some consistency on our part and we need to know what we're risking. If we think it's worth it, who cares, we'll sleep when we're dead then go for it, mama! If you are a tad more cautious and think the trip to Maldives could wait a few years or be an adult only trip, then jump on that train. Whatever you decide, count the costs beforehand so you aren't in for a shock either way.
Read: Get A Tired Baby To Sleep — In 4 Simple Steps
I am a firm believer in traveling with kids and not letting them miss out on the good fun. However, we do need to be considerate of their needs. If you have significantly older children and a baby or toddler this'll be more difficult because a 5 or a 10-year-old can cope easily with late nights and lots of fun. However, if all of your children are younger than planning the types of vacations you'll take will be season specific.
Still, don't let the nap dilemma steal your peace and your fun. After a few days the kids will probably be so tired they'll conk out anywhere :)
If you need more information on traveling with kids check out my ebook. It covers flying, driving, how to pick accommodation, where to eat for free, great apps for travel, renting baby gear and so much more!
I've created a free email series just for you! There are truly only a few reasons why babies and toddlers have struggles sleeping… really, I mean it. I am going to teach you the main 3 reasons and how to start making small changes to help your baby go from:
fighting sleep to embracing it
night wakings to sleeping through
needing you to jump through hoops to going to sleep on their own
Click here to sign up for my free email series or simply click on the image below.