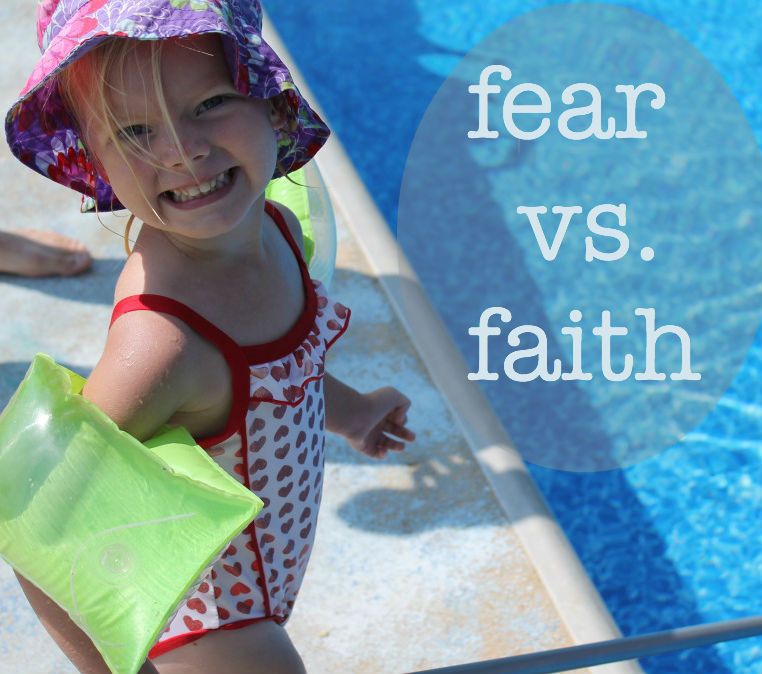 As parents, there are many times we have to step in and reassure our children. At bedtime we reassure them we'll be there in the morning. When we go to work or on an errand, we reassure them we'll return soon. Children – because they have the good sense God gave them – often feel fear when they are faced with something they are unfamiliar with or something they don't like. They don't like it if their parents leave. They aren't familiar with what might happen the first few times they go into the pool. That why it's so important we learn to train them in fear vs faith.
It is our job as parents to teach our children what's okay to do and what's not okay, generally speaking. Yes, we take showers. No, we don't give daddy's phone a shower. Yes, we can bring Winnie the Pooh to bed. No, we can't take scissors to bed. However, in the midst of all this there is also another parallel happening. One that makes things less cookie cutter. It's called faith. I personally can't stand when people say "have faith" but don't say what exactly it is you're supposed to have faith in.
Not only will we have to teach our children to have good sense and have faith in themselves, we'll have to teach them to have faith in God. Even when it doesn't make sense or they doubt themselves. Well, how on earth do we do that?
1.  We must help them to evaluate their fears. 

The other day my daughter and I set out to carve a pumpkin and paint it. I had everything ready, including a handy-dandy painters apron for Pickles. She took one look at it and lost the plot. She actually ran across the room screaming "No, it's not good." Hmm. So I made her daddy put it on, good sport, to show her that it was fine. Then she ran over excitedly and wore it throughout our craft session. She was, for some odd reason, afraid of the lime green apron. After she saw it was harmless, she wore it with pride. I believe it is helpful from an early age to not pressure our children into doing something they are afraid of initially, but to help them evaluate their fear. This will look different depending on their age, but for a two-year-old the above method worked. For a 6-year-old, a conversation might work. Before we jump gung-ho into forcing their compliance, let's figure out what's actually going on.
2. We must help them show them that fear is a natural part of life. 

Sometimes children will be scared to do things they actually need to do. Maybe they are scared to go to school, maybe they are afraid to go to the doctor or dentist. Fear is a very natural part of life and God-given. It's important we communicate to our children that fear is normal. But, just because it's normal, doesn't mean that we let it make our decisions for us. There are many things I've had to do in life through fear. I've been actively afraid and yet I've pushed through. Sometimes it turns out well, sometimes it doesn't.
I had a piano recital when I was young and had memorized two pieces. While rehearsing backstage, my hands were primed to play the final two notes of my first song and my instructor walked in and said "time to go." It broke my concentration and I couldn't remember the last chord. The entire recital I sat trying to remember via muscle memory what the last note was. I went up to play, got to the end, and couldn't remember. I started again halfway through the piece as instructed and then, still couldn't remember. I went to my second song and, wouldn't you know it, suddenly I couldn't remember the ending to it either. I'd had these pieces memorized for a long time then nothing. I stood up with as much dignity as my young self could muster, I curtsied, then I sat down. I was scared. It ended badly. I survived. And I still play the piano.
3. We must teach them about others who have gone before. 
I love reading biographies and testimonies of people who have pushed through fear, resistance and pain to do something great. And by great I don't mean they were famous, I simply mean they achieved something personally great. From their personal perspective. If you've gone through your adult life never having driven a car then go for a drive at age 40, that is great. Reading Christian biographies and stories of normal people doing great things will help encourage our children to reach their potential. It isn't about being fearless. What's to be commended in that? It isn't about always succeeding. That's impossible. I often assume that highly successful people were fast tracked at a young age and never experienced failure. If you read past accounts, stories and the hoards of books out there – even those geared towards children – you'll find out the contrary. It's about normal people facing their fears and pushing through the middle.
4. We must model an active relationship with Jesus. 
If I know anything – and I may not know much – it's that when we are in an active relationship with God we are often asked to do things that are scary, uncomfortable and all together unappealing. Initially. I had a friend tell me  I would know I was on the right track when I started feeling convicted to give things up. God asking us to give things up is a sign that He is wanting to draw us nearer to Himself. Depending on what that is, it can be very scary. He may call you to the mission field or to a new job in another state. Fear may even cause you to consider disobedience. The act of trusting God through our fear and pushing towards God in faith is something that our children need to see lived out. It is hard. It will be hard for them. But that's okay. It's the heavy loads that make you stronger.
5. We must, somehow, teach them when it's good to act and when it's good to wait. 
I am b-a-d at waiting. As in, I never want to do it and have to put forth real effort to remain calm and content in the waiting. I'm better than I used to be because I've been put in so many situations where I've been forced to wait that my desire to survive without having a nervous breakdown has somehow overcome my inability to wait. At least somewhat. When our children fear something, maybe, it's okay for them to step back for a while. If it's related to insecurity in another area, maybe we can help them address that first. Sometimes, however, the way to get through our fear is to face it and see it wasn't so bad in the first place. As we all go through this journey together of learning how to face our fears and learning how to step out in faith, we can teach our children so much more by walking with them instead of talking to them.