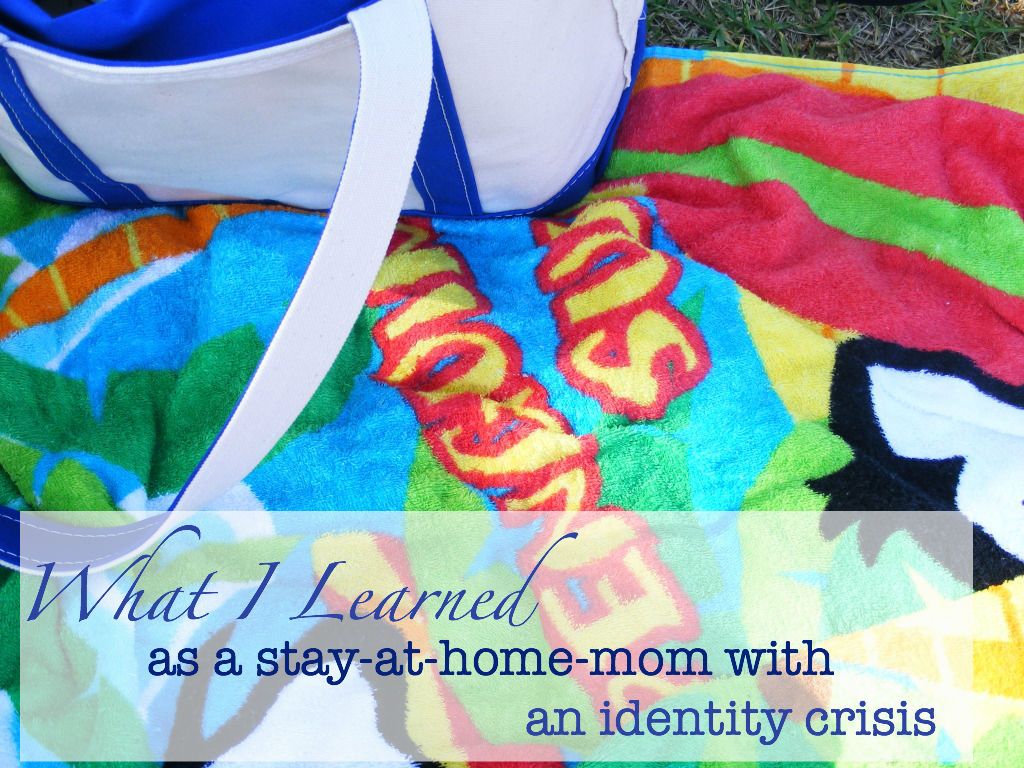 I've had a hard time of it recently. Not in a pity party way, but in a grieving-what-I-thought-my-life-would-look-like-but-what-it-is-not kind of way. I don't regret decisions that I've made to be a stay-at-home-mom, simply that there is a transition that inevitably happens, and it is perfectly good and right to grieve the freedoms lost.  Being real and honest about where we're at emotionally helps us move forward in a healthy way. I realized what was going on, basically, was I found myself in a stay at home mom identity crisis.
Taking a snapshot this day in time, my life has not quite turned out like I thought it would. From childhood I had certain expectations and things I took for granted about myself that have not (yet?) happened. Some things I have now in life are better than I ever could have hoped for, but there are still things that I expected I'd have, which I don't, and this brings feelings of disappointment and loss. Where these expectations came from, who knows, but the fact is our expectations play a huge part in our mental health. What we expect, no matter how ridiculous or out there, has power over us because with unfulfilled expectations comes disappointment, heartache and sadness.
I had these hard thoughts the other day.
I am in charge of no one.
I am bossy and I guess I thought I'd have a job and be a boss. Nope. I boss around my two babies and attempt to boss around my husband, but that's it. Luckily for my ego my babies mostly do what I say.
I rarely have occasion to dress nice.
I always imagined myself in navy pencil skirts with pinstripes and high heels. Literally, I remember dressing up in my moms' clothes and answering phones and bossing imaginary secretaries around. Now, I wear running shorts (that I don't run in), khaki shorts, or knit sundresses most of the time. I see women in "work attire" around and about and feel like a slob. I was in Sydney the other day on a "Rachel Day" and passed by woman after woman in those nice peplum sheath dresses holding cool leather briefcase things and there I was with my hair in a knot in my  navy polo dress (was it L.L. Bean or Land's End….it's hard to say me being oh so fashionable and all) and thongs. Oh yeah, thongs = flip flops in Australia. In comparison I just felt… unsuccessful and immature. Like they had real jobs and I never grew up.
Read: 5 Things Emotionally Exhausted Mothers Need to Remember
I don't yet own a house.
We've been in Australia now less than two years and, because my husband is studying Engineering at "uni" (as they say here) full-time and we both only work part-time (me from home), owning a home would be a burden too heavy to bear. Our rental is nice, relatively new and nothing to complain about. I just never thought I wouldn't be able to put up a plank ceiling, wallpaper or knock out a wall. I never thought I'd reach 31 and not own anything worth more than $10 or 15 thousand dollars. It is humbling. This is better than the living arrangements of much of the world, I know,  but I am measuring my expectations based on a life in my society with my reality.
I am not "important."
Obviously, you can gather I had grand designs in my youth. I thought I'd do something important or be someone important. Being an only child gives you a over-inflated sense of your importance anyway, I guess. I imagined myself fighting for a cause or winning a case. Instead, I have little influence, and aside from the occasional friend seeking some wisdom, I do not have an important status on paper or anywhere else.
I am not a leader.
Maybe because I'm bossy and I talk a lot and I'm smart (not like insanely smart, but straight A smart) and I have lots of ideas, I just thought I'd be a leader. Alas, I am not. Aside from my two perfect munchkins and a Sunday evening women's meeting at my church (where I'm using a curriculum which means I basically only show up and press play) I do not lead. I thought I'd be in charge of something by now. Although I am busy building my resume for a stay at home mom.
I tend towards anxiety.
After a recent hormone surge and a subsequent severe anxiety spell I realized, though that episode was extreme, I always feel anxious. I am supposed to be full of peace and never worry. Instead, I've probably had anxiety for a very long time, and now I'm going to see an anxiety counsellor. I thought I'd be able to do it all and have it all, not that I would fall terribly short of my perhaps unrealistic expectations and give myself anxiety in the process.
After having this epiphany about the relatively humble status of my life compared to what I thought I would have, I felt God show me these truths.
(1) There are seasons
In the dead of winter with frost on the ground, no leaves on the trees, and shivering through the night, there are no indications that a spring will arrive. In the dead of summer when you're sweating in the shade, unable to finish your ice cream cone before it melts everywhere and you're looking decidedly unladylike with sweat stains under your arms, it's hard to imagine a cold winter's night.
Yet, as the sun rises and it sets, so the seasons change. Winter, spring, summer, fall. Or, here Down Under, summer, autumn, winter, spring. Every single year. I am in a particular season. A demanding, exhausting and stretching season. But, even this season won't last forever. My kids will go to school then go off to college or get married (someone please email me a sedative). I may even have occasion to wear a pencil skirt and heels or even – gasp – a suit. I might even have an employee or two.  Or maybe I won't. But, either way, things won't stay this way forever.
(2) I am the most important person in the world (along with my husband) to two people
Of course being important is relative and it's a weird expectation to have regardless. Maybe it was a hope, a hope to be someone who others could look at and say "wow, she's done something." But you know what? My two babies do think I'm important. I am one person they value highest. No other face or voice is the same as mine. Some very successful beautiful billionaire who never wears Nike shorts but who wears high heels every day can't get the reaction from my babies that I can. And if I'm honest, that does make me feel important. It makes me feel the most important.
(3) Do not despise small beginnings
From the beginning of our immigration to Australia journey I have felt God tell me this. That if He can trust me with a little, He can trust me with a lot (Luke 16:10). If I can be content with just enough then I'm content. If and when I get more later, fine, I'm still content. If I don't get more later, fine, I'm still content. I must not look at others in huge homes driving Mercedes with perfect makeup and hair (I wish I could make myself do anything with my hair except stick it in a bun) with children wearing $50 leggings and $80 rain boots and despise my small beginnings.
Our small house, small budget, small car, and small status. God doesn't care about my status and my children don't know what status is, so why waste contentment and peace worrying and wishing for things I can't take with me anyway?
(4) It is easy to misplace your identity when you are focused on others all day
I used to be self-assured and self-aware and very clear (at least in my own mind) about who I was. I knew my tastes and likes and dislikes. I even know myself so well I can find things I lose by saying "if I had it right now, where would I put it?" I'm right 95% of the time, no matter how obscure the location. That's cause I'm predictable and if it ain't broke, I don't fix it. However, after months and months of focusing on babies 12 hours a day, and sometimes on into the night, I started to lose touch with myself. I remember sitting on the couch thinking "oh my goodness, who am I? What do I like? What would I do right now if I could?"
I felt so far removed from the Rachel I once knew that I felt like a stranger in my own body. I believe this is not uncommon. For someone like me, an only child from the country, relaxing to me means being alone in a quiet atmosphere.  A loudish suburb with loud kids and barely a few hours alone – and those pretty much always at home – had not refreshed me.
My husband and I decided I could take a full day/night out to regenerate. I did. I watched a movie, read a whole book, took a nap, took two baths even though I wasn't dirty, ate a dang good dinner, and stayed at a nice hotel. I came home the next day and had more patience with my children than I'd had in months. Being alone, for me, helps get me back to myself. And I may not be perfect, but I want to give my kids the best I absolutely can and wandering around on autopilot is not it.
I chose to stay home. I choose it again today. I will choose it next year and the year after. It is my desire. But just because it is my desire doesn't mean it isn't hard.
I was in the kitchen a few weeks ago and saw how messy it was, how many dishes were in the sink, and how the floor needed a good sweep and mop. I teared up thinking how I do the same things over and over each day and yet there is always more to do. I felt empty, drained and weak. Then I felt God say into my spirit that despite the difficulties, I will look back at this time as the best years of my life. I knew in that moment it was the truth. My babies' small faces, their innocent laughter, reading a million word books, colouring together, playing peekaboo and chasing my babies up and down the hall.
Later, I won't remember all the laundry and dishes and diapers. I will remember the love and joy of new life and how I was blessed – no, privileged – to be able to take some time out for a few years and just be with my children. To get up, love them, serve them, and go to bed exhausted knowing that they know they are loved. Before they have to hit the real world, before they are bombarded with their own share of challenges and pain. Before they leave me (oh God help me) to go make their place in the world. I am blessed to have a baby girl who wakes up every morning calling my name and a baby boy who has the hugest smile he saves just for me, and a bun baking in the oven. All the rest is just extra.
If you are stressed, overwhelmed, or drained… you aren't alone.
After hearing from thousands of mothers, I've narrowed down the Top 5 Biggest Stressors For Moms. Sign up below and I'll send my FREE series straight to your inbox!
Click here and learn breakthrough strategies that'll help you feel peace immediately.