I don't write much about our day to day lives because this isn't a lifestyle blog. Mainly because I don't really have a lifestyle. Lifestyles are for people who put on real clothes and not pajamas and running shorts and for those who seem to eat organic everything and take really nice pictures of their kale (what is that anyway?) salads. But, since I often refer to my children as the 2-year-old or my son or daughter or oldest, etc. I thought it was time to do a little expo profile on each of my kiddos. This way, when using them as examples relating to discipline, obedience and personality type, things will be easier.
Without further ado. Enter Pickles. At 2.5 years.
I have no idea why I started calling her pickles. It was obviously some sort of postpartum sleep deprivation induced form of sentimentality that drove me to my creativity. She wasn't even eating puree foods then, much less pickles. Now I can proudly say she does love a good dill pickle like her mama.
//
Birth Order Traits + Personality
She's currently a little less than 2.5 and displays very many of the Birth Order first-born personality traits already. She is cautious, careful and pays very close attention to everything and everyone. She watches things closely and can repeat an action you did once three days ago with great accuracy.
She needs to be forewarned of upcoming things. If I am going to put her down for a nap, ten minutes prior to naptime I start telling her, around every 2 minutes, that soon it'll be naptime. If I do this (for whatever is about to happen) she almost never fights the issue and comes along happily. If I don't warn her and then try to change up the scenario, make her get out of the pool or into the truck, she will balk, stall and get fussy and argumentative. A very first born quality!
She is truly a sweet child and hates to see people upset. If someone is crying, even a baby in Wal-Mart, she'll say "Oh no, baby crying, it's okay!" She wants to "feed the baby with her tummy" like mommy and in the week since her little brother has been born she  has wanted to hug and kiss him nonstop. She is not outgoing, per se, but is confident and will stand up tall and look adults in the eyes when they speak with her. She's bossy to her younger brother but generally in an effort to be helpful.
//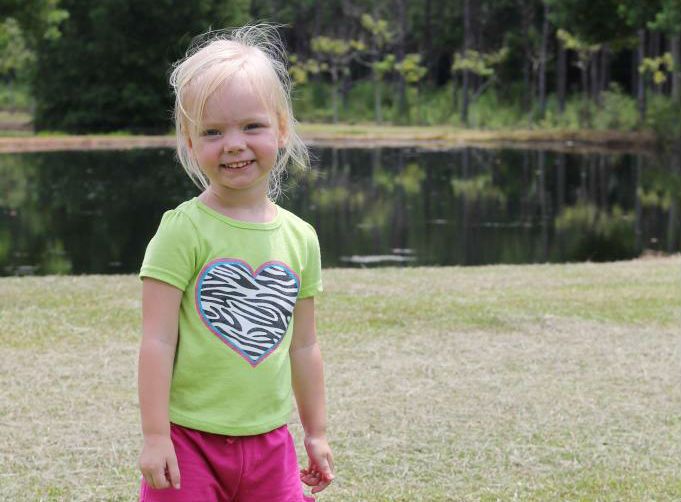 Obedience + Discipline
She is an obedient child. Sure, she tests me and we go through phases. But on the whole, she is very obedient and has a happy and submissive heart. When she acts out for a day or two in a row and is particularly fussy or irrational (ie, I want the blue one, no not the blue one, the pink one, no not the pink one, the blue one…) then she is almost always not feeling well. Anytime she starts acting very difficult to be around I immediately start to look for physical signs she is unwell and it is almost always the case.
She responds well to time out and is generally very sorry, or at least able to acknowledge her wrongdoing, and say she is sorry to myself or her younger brother. If I ask her to do something and I can tell she is deliberating whether or not to obey (she does this, she stands still and thinks about whether or not she'll obey) I gently say "You can come with mommy or go to time out" and she almost always acquiesces.
I have found I need to give her time to obey me. If I ask her to do something I often don't repeat myself, but look her in the eyes with a firm but kind gaze and wait. We often have stare downs. I think they are fun. I am not threatened that she needs to make her own decisions and she doesn't feel rushed. 90% of the time she will simply decide to do what I've asked.
//
Sleep Habits
We moved to Australia in her third month of life so her napping was off since we were in a car driving around trying to find somewhere to live for a month. However, when we settled in well she started napping and sleeping through the night like a champ. She slept through from 7:30 to 7:30 at 4 months. She has always napped well and does not stand for interference from me. If I go in to her room for any reason, that's all she wrote. She is an independent child and likes to take care of things on her own.
Now she's on one nap a day and sleeps anywhere from 2.5 to 3.5 hours starting at 1pm. She goes down and sleeps from 7:30 to 7:30. I can generally set my clock to her sleep habits and am able to plan our days accordingly. She likes to sleep and we have routines leading up to both nap and bedtime.
//
Independent Play + Focusing Skills
As we speak she is in the playroom playing the piano and coloring. She has always handled her independent play time well and rarely fusses. If she's not feeling well or is having an emotional day then she may resist, or I may not require it on those days. She sings and talks to herself and usually says "bye mommy, see you soon" as I walk out. I get a huge smile from her upon my return and we clean up together.
She is an extremely good focuser. She can color for 20 minutes on her own. We can start an activity and, more often than not, she is able to see it through to completion (you know how I am about Starter Finishers) without much enforcing on my part. From infancy she has been able to pay close attention to books and has given me the shock of my life a time or two when she has basically recited entire books from memory based on the pages. She loves this. I stopped reading one day, randomly, and she finished the page and then she finished the book. I almost fell off the bed.
I can already tell she is going to be one of the prim and proper girls on the front row telling the other kids behind her in class to be quiet so she can hear the teacher. I have high hopes for my darling.
//
She is my baby girl and I have so much fun with her. She's not a cuddler by nature but I've at least slightly converted her and love laying down and sharing a pillow while we read books together. I can already tell she is going to keep me on my toes because she is very bright. Maybe it's maternal pride, but I'm not so sure. The other day as we were riding the golf cart picking grapes off the vine she pointed to the sky and said "Look mom, the moon. A semi-circle in the sky!" I assure you I never taught her semi-circle. Come to find out, nana told her the moon's shape a week or so before. Everything she does makes me beam with pride. I can't wait to grow up and do all the things mothers and daughters do together.
So there's my Pickles on paper. My beloved daughter.
Want to learn your parenting style?
Each of us have our own personality, temperament, and giftings. And, the truth is, we parent best when we work with these instead of against them. Take this assessment so you can work to your strengths, and be the mom you want to be for yourself and your children.