This post contains affiliate links.
With the birth of my third child coming, in just about a month here, I knew I needed my diaper bag situation to be organized, hence the birth of this post with tips on organizing a diaper bag. Pretty soon I will have a 2.5 year old, a 16 month old, and a newborn. Yikes. Let the games begin. Previously, I've had an absolute love/hate relationship with the diaper bag because it was unorganized, either full of more things than I didn't need or lacking the things I did. Plus, I kept finding month old teething crackers or banana peels in random pockets. That had to be remedied.
This post will share some basic – and probably common sense to everyone but me – tips on how to get an organized, efficient and working diaper bag so you can literally pick it up and walk out the door.
I'm breaking the post down into a few parts:
diaper bags
inserts
snacks/drinks
wallet/money
Tips for organizing your diaper bag
1. Diaper bags
I got my diaper bag from Vera Bradley and I absolutely love it! Here are some bestselling diaper bags on Amazon right now from lower to higher end.
From left to right: left \ center \ right
2. Get a pocket system (or organization system) down that doesn't change.
It's what attracts us to the diaper bag… the pockets. 48.5 pockets of all sizes for every imaginable thing. This is all fine and well until you don't remember which pocket has what and you spend three minutes digging through each pocket to find a pacifier to try to comfort your baby. Pretty soon you forget about the pockets and just throw everything in the bottom. The bottomless diaper bag pit. Or at least, that was me. I got a bag with pockets and then saw this amazing diaper bag labeled organizer and knew I needed it (this is not a sponsored post).
From left to right: left \ center \ right
3. Buy lotions, potions + containers that never leave the diaper bag. 
I used to just transfer what I needed from the house to the bag before exiting. This was a dumb method because I usually ended up grabbing the bag, shoving a few diapers in and then walking out. I rarely remembered the diaper cream or the lotion or the antibacterial hand sanitizer. Or, conversely, I would remember to put them in the bag and then would leave it at the front door. This time I got smart. I purchased travel (or diaper bag sized) lotions and potions that have gone into the bag in the place they'll always remain so that there is no forgetting.
4. Snack attacks.
I always thought I was relatively efficient, but the longer this post lasts the more I realize I am obviously haphazard. I can't tell you how many times I found teething crackers, banana peels, and half-opened cracker bags in random pockets months after they'd been put there in the first place. For two toddlers, I'd throw in a few randomly assorted snacks and then be gone. The trouble with that was I either didn't have enough for both, they didn't want to share, or I lost them in said pockets. This time, I got crafty one day and DIY'd snack bags with zips and a metal ring so they'd attach to said diaper bag organizer.
I sewed them up one afternoon and attached vinyl letters to the outdoor fabric so they'd have some personalization. This way each child has their own (not that my unborn newborn is snacking on anything, mind you, but this is all about being prepared) snack bag and I know I have equal portions. Also, if the children separate – like say at church – they have their own snacks they can take with them. Also, these bags stay in the diaper bag and don't come out so that whenever I want to quickly put in a snack, it has a proper place.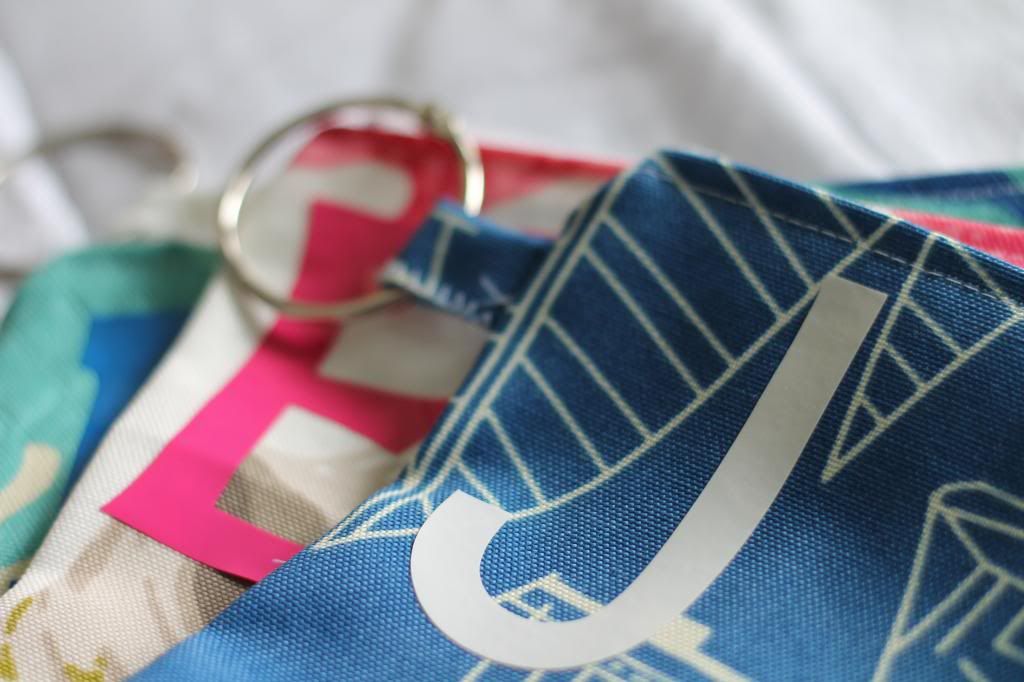 5. Mom's essentials
This is what really did my head in about the whole diaper bag issue. I had a medium to large-sized purse as well as the diaper bag. When I was sans kids I'd take my purse. When I was with kids, I'd want the diaper bag. However, things like my wallet and phone needed to come with me. I'd throw my wallet or phone in the diaper bag amidst the banana peels and call it done. However, if we were out and about and I needed to separate from the hubs and kids for a while it meant I had to walk around holding my wallet. Enough was enough.
I bought a cutesy wallet (that also fits my phone and has a hook for my keys) that doubles as an over the shoulder purse. When I'm with the kids I put the wallet in the bag. When I'm alone, I use it as an over the shoulder purse. Since I'm usually with the kids this works for me. If your kids are old enough that throwing a diaper and some wipes into your purse works, then figure out a good system that works in that way! Carrying two bags was just too much for this mama.
I hope I haven't been preaching to the choir for too long here, but I'm telling you, this diaper bag organization has made my life so much easier. Things are where they should be. I have what I need. I'm not running from the changing table to the diaper bag mid-diaper change, and it's a working system that I know I'll keep up.
With multiple children (or even with one, for that matter), I believe that is key. Putting into place practices and habits that are organized and easy to maintain. If you won't maintain it then don't waste your own time. So, baby number 3 preparation and organization project #1: complete!
How do you work your diaper bag? 
You are NOT lazy, disorganized, or unmotivated. The fact is, if your home feels chaotic,it's your systems. With easy efficient systems, habits, and routines you can start to have the home (and home atmosphere) you crave without working yourself into a frenzy.
Take this quiz to see how well your home systems work then get free and easy hacks to help make your home more tidy, peaceful, and organized.