You've met Pickles and Jiggy. Jiggy came 13 months after Pickles. My little Prince came 15 months after Jiggy. Are you a crazy woman? you are thinking. Well. Perhaps. Since he's only three weeks old so there aren't really any personality, birth order traits, or discipline points to report. He does sleep well during the day and using Babywise and the 4 S's, I'm normally able to put him down for a nap while still awake without crying. So since I can't report much I'll introduce you to him with a brief story of his entrance into our lives and hearts.
I've already told you how my water broke this pregnancy because I thought my daughter was in danger. The day before my water broke my doctor performed a membrane sweep at my 38 week appointment… without asking. Now, that may seem routine to some of you. However, since I had Pickles in Scotland and Jiggy in Australia (two countries heavy on the midwife system and with far less interventions and a focus on letting things unfold naturally) this is very abnormal.  As in, in both of those countries they said a membrane sweep was an option if I was a week or two overdue. Definitely not two weeks early. I was shocked. Truth be told, however, I'm happy I had him early since I was dead sick of being pregnant and even two weeks early he weighed 8 pounds.
So, I went in to the hospital about 7 hours after my water broke, much to the dismay of the nurses. Apparently I was "supposed" to come in immediately. I am assuming they don't have many who follow the Bradley Method or it wouldn't have surprised them. My intention was to have the baby naturally with no intervention or drugs so I didn't want to rush in and then risk being induced so everyone could do a shift change conveniently.
So, I was doing okay relaxing and all the rest. Then came transition time. Of course in the moment, I didn't know it was transition. I just knew I couldn't take it anymore. Transition is the near death experience. As in, you think you're gonna die and you beg for mercy. I started begging for drugs. I felt no shame. I was over it. A few minutes later the doctor came in and said it was time to push. I turned over like a crazy person and said "Yes, let's do this!"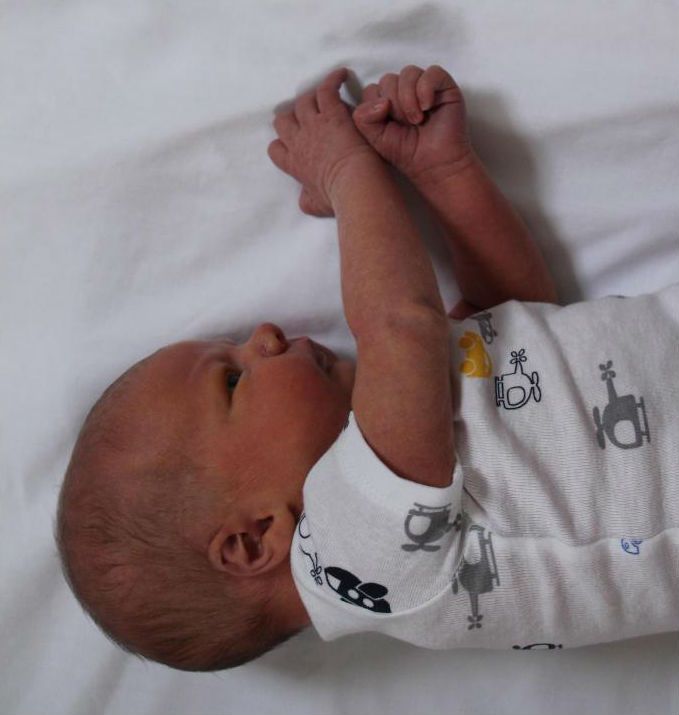 Immediately, a nurse came in and says that next door the baby's head is coming out. I wanted to say, "Look people, let's talk about me now." I'm telling you, this was not helping the concentration. The doctor said "She had an epidural, just tell her to stop pushing." To this the nurse replied calmly, "Yes, but the head is out." So then – being ever rational – I said, "Well, if the head is out then she doesn't need you." The doctor gave me a look and ran out. Then I see a sweet young nurse standing in front of me and she said "Okay, on the next contraction we'll just take it easy."
I don't know if anyone has ever told you to take it easy in labor. I mean really. So I looked at her and said kindly but firmly, "You had training and you have two hands. Catch the baby." Well. She turned around and said in a panicky and very loud voice, "I need some help in here." Then the doctor ran back in and I delivered my little prince. At 38 weeks and 8 pounds he was off the charts in size. And he is off the charts amazing and perfect and since I'm swooning I'll wrap this up.
Meet my little prince. He makes his mommy feel like a queen.
Want to learn your parenting style?
Each of us have our own personality, temperament, and giftings. And, the truth is, we parent best when we work with these instead of against them. Take this assessment so you can work to your strengths, and be the mom you want to be for yourself and your children.