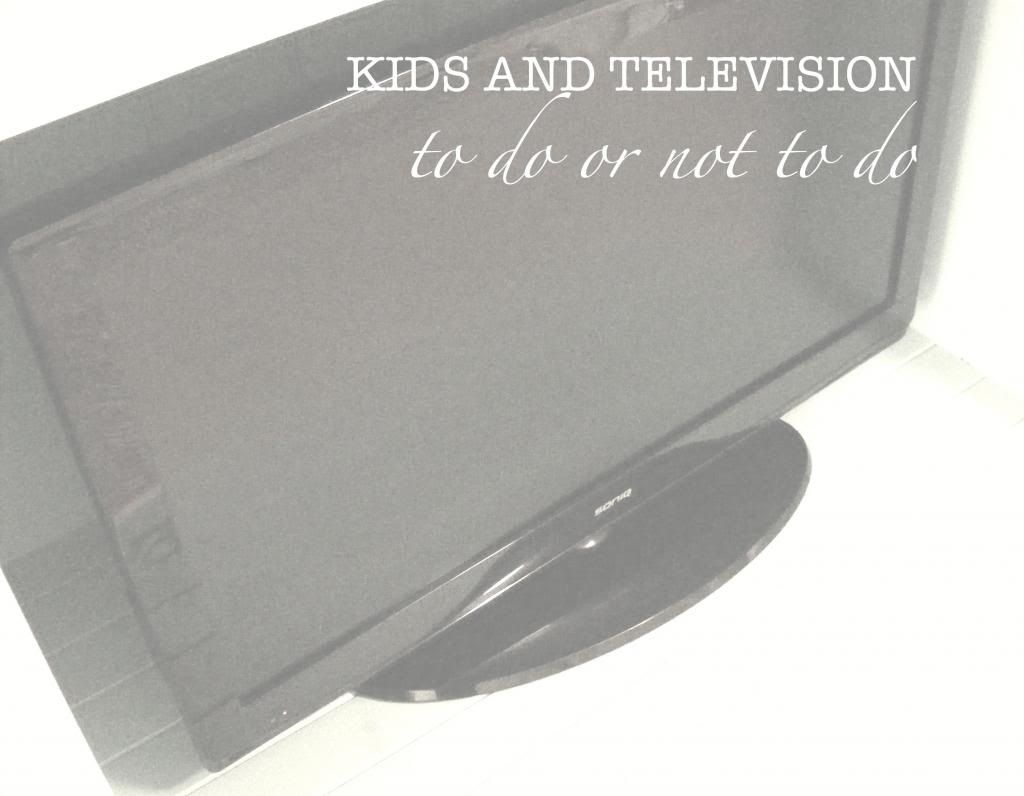 The TV. Friend and foe. Giver of good information. Purveyor of trash and nonsense. Television is a reality in our world today. Unless of course, you don't own one. In which case I'm sure you were not tempted to read this. However, if you do have a TV then maybe you (like most mothers I'd wager) have a semi-constant angel-on-one-shoulder and demon-on-the-other-shoulder conversation going on about your little ones and the dear old television. This article isn't intended to tell you what to do, but simply to get us thinking. 
Thoughts on TV and our little ones.
(1) Censorship is necessary. 
If we choose to let our children watch TV, whatever the amount, we obviously have to be diligent in monitoring what their little eyes are seeing. And I don't just mean "as long as it's animated it's okay." Shows with too much violence, conflict or mature themes will introduce confusion and can potentially expose your children to behaviors that you don't want them repeating. I read somewhere (I believe it was in Nurture Shock but I can't be certain) that children who watch a lot of TV are more aggressive and antagonistic.
The reason for this was that in a 30 minutes children's show, 25 minutes is spent in the conflict. Anger, snobbing, mean words, silent treatment, etc. and then there's a brief 5 minute (including the commercial break) resolution. If there are cartoons on with any dark undertones whatsoever, we change the channel. If there's nothing wholesome, happy and positive on Saturday mornings, we turn it off.
(2) How much is too much? 
Each family will have to decide this on their own, but Babywise suggests no more than 30 minutes to 1 hour a day, and no more than 30 minutes of that in the mornings. Why? Because television is very visually stimulating. It can create napping problems because if your child has seen too much for their brains to process then they will have a hard time shutting it off. That is the same with adults, why should it be different with kids? I try to limit to 30 minutes a day, an hour max. Except on Saturdays.
Saturday mornings we'll have cartoons on for an hour or two if we are home and I am okay with that. It isn't everyday and I don't use it as a babysitter. I'm sitting in the living room with them most of that time so we are still interacting together and I'm there to monitor. I'd encourage you to decide a limit (and this includes video time on the computer or iPad) and stick with it. It can be easy to get into the habit of just having the TV on all day. I don't think that's wise or safe.
(3) When is the best time for kids to watch TV?
 I am very strategic about our TV/video watching. Occasionally when I need to be in the kitchen for a while, I will put the kids in front of the computer to watch some educational videos I love (find Kidstv123 on their YouTube channel here). The songs are slow, calming and deal with colors, numbers, vocab and shapes. My daughter, at 24 months, can correctly differentiate between a hexagon and an octagon. Wow. I wish I could take credit for that. Anyway, I use this wisely. I put them there when I need them occupied. Win win.
Also, I do the dinner and bedtime routine almost everyday of the week since my husband is a full-time student who works in the evenings. That means often around dinnertime I'm about to lose it. We now eat dinner and take 30 minutes to watch the Brady Bunch, me and the kids. Laugh, I know. But I sit on the couch, forget about the dishes, baths, cleanup and laundry and I just relax. My kids mill about and when it's over, I get on with the rest of the evening routine. It helps protect my sanity and the Brandy Bunch is wholesome. If my husband was home in the evenings we would probably not do this. He isn't, and as such, I use the TV to my advantage in this case. But again, not as a 24-hr babysitter because I am there with them.
(4) Will they become zombies? 
My husband said that growing up (or in his teenage years) he used to just eat dinner, sit on the couch and watch TV for hours. I'm sure this is a common occurrence, but it isn't one I want our family to adopt. My husband and I discussed that we'd prefer to play games as a family, spend time talking, playing outside, etc. Of course, we'll watch TV now and again, but we have decided that we don't want our go to evening activity to be TV.
Because TV in itself is bad? No, but because it can quickly become a habit and it is not a habit we want to start. If there's a show we want to watch we'll wait until the kids are in bed. We hope that'll mean more talks with our kids as they grow up, more time together to do other fun relational things. Of course we can still watch fun shows as a family (like something Bear Grylls-esque), but we want it to be regulated. This is a decision we've made and one my husband agrees with because he said he easily falls into the habit of watching TV like a zombie, and he wants to protect against it with our kids.
(5) What are your household TV habits? 
This will be the largest factor in determining how much TV your kids will see. Also, it may be harder for you to recognize that things are coming across the TV that your kids actually need to be shielded from. It doesn't mean you should change the shows you watch, etc, just perhaps when you watch them. Record them on your DVR or watch them on DVD instead of sitting down at 7 when the kids are awake to watch a murder mystery. The TV (or rather, some content on the TV) is a major cause of nightmares in younger children.
This is a great to re-evaluate your viewing habits. Do you watch trash that you don't really care about simply out of a habit? Are there times when the TV takes away from quality time you could be spending with them? See my post on Quality time vs Side-by-Side time here. TV can also be a great time together to learn about new things as a family. Like the History channel or the Discovery channel. I'd recommend evaluating your viewing habits and then deciding whether that's how you want to go on. TV can take over slowly and then consume 4 hours a night. If that's okay with you then no problem, if you think a change is in order, there's no time like the present!
Whether you turn it on each evening to catch up on your shows or you tune in once a week for Downton Abbey like me (ahem, we are only now finishing Season 3 here in Australia), it's important we thoughtfully and purposefully manage TV consumption in our households.
Read related articles Quality time vs. Side-by-side time, Babywise book review, Nurture Shock book review
Want to learn your parenting style?
Each of us have our own personality, temperament, and giftings. And, the truth is, we parent best when we work with these instead of against them. Take this assessment so you can work to your strengths, and be the mom you want to be for yourself and your children.