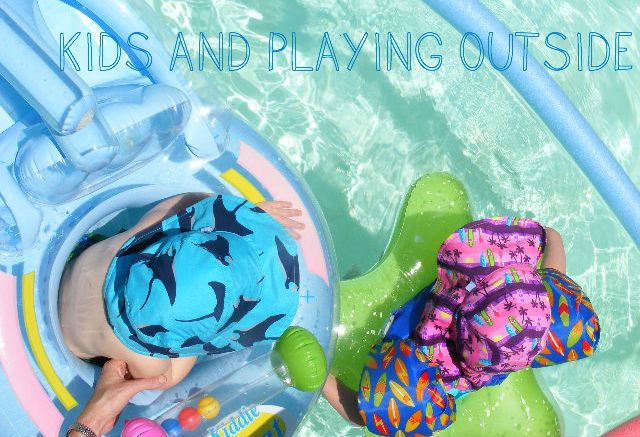 I have long thought there's great merit to letting children get outside every day. I guess I'd probably drawn the line in rain or snow, but I've heard quite a few mothers say rain or shine or sleet or snow they play outside and just dress their children accordingly. I think, after this rainy summer in Florida, that I'm getting sold on the idea.
Being a country girl myself I like to be outside and see open spaces. Too much time in the house makes me feel cooped up and I've been known on occasion – make that many occasions – to load my kids up and take a drive out into the country from our current home in the burbs. Nothing against the burbs in general, but they personally suck the life out of me. I literally feel lighter and happier as I drive out in the middle of nowhere.
This summer we've been with my grandmother on 20 acres with ponds, grapevines, the pool and a golf cart to ride around until our heart's content. That makes going outside easy. In Australia we have a backyard the size of a spa jacuzzi tub in the Ritz Carlton and so going outside, and keeping the kids interested, is a bit trickier. I think there are a few reasons why having kids play outside is worthwhile and I've thought of a few ways to get them out there even if your yard isn't a mega playground like my mima's. 
(1) Good exercise makes for good naps. It wasn't until my oldest was around 2 that I started to notice she didn't sleep well if we hadn't given her something active to do. Okay. Duh. But still, it was a revelation since from the time she was born she just went down easily and slept a long time. Our suburban yard is laughably small but even just some time outside gave her the opportunity to explore and have a change of scenery. While in Australia we often go to the nearby park or pool and take walks. We've been in Florida all summer and here we've gone outside everyday that it wasn't raining for a good workout. We've swam, ridden the golf cart, blown bubbles, ran, picked figs, grapes and blueberries, etc. They get hot, sweaty and I think it gives them a little "high" that helps them feel they've been busy. At least, that is what I imagine they're thinking. When they haven't gone outside or haven't gotten a good change of scenery their naps are noticeably shorter.
(2) Time away from TV and media, ripe for imagination. I've previously written on Children and the TV and know that each family has their own preferences and rules. However, I'm sure all would agree that time outside is great because children are forced to use their imaginations. As with the tv, apps, and even lots of toys, there isn't tons of imagination required to play. When children are outside, even swimming, they get to use their own noggins to come up with games and fun. My 16 month old eats sticks. I imagine he is trying to get ascertain the mineral content of the soil for our future garden. My 2-year-old loves to play in the barn and get on and off the lawn mowers and tractors. Either way they are loud, full of energy and playing.
(3) Find a nearby park, reserve or pool. If you live in the city then you probably won't have a backyard. So, finding somewhere for your child to play outside will likely be going to the neighborhood park, pool or recreation center. These are great places to meet other moms and to find organized groups and play dates as well. You may not want to do this everyday of the week, but for an hour or two a few days a week I am sure the kids will appreciate the change. I struggle at times to fit in away from home activities with the children's schedules, but am always happy when I do.
(4) Don't wait until conditions are perfect. As referenced above, I tend to want there to be perfectly sunny weather and assurance that no one will miss a nap or get fussy because they're hungry before I'll pack us up and go on an adventure. I've learned that sometimes you just have to get out of the house. Period. So what if it's snowing, pack on their gear and let them at it. Maybe playing in the rain for an extended period could open them up to illness, but I'm sure a few minutes of fun won't hurt nor will some mud puddle slip and slide. I don't want to raise children who'd rather be inside at all hours. That is likely to naturally happen to a certain extent as they grow older so  I don't want to encourage it.
(5) Give them some hard work to do they can track progress of. I think kids need to learn to work hard. And I don't mean rob-them-of-their-childhood-no-playing type work, but as a part of their chores I think that physical work is beneficial. Whether they help you keep a garden, learn to rake and hoe, pick up limbs, etc. I think having some outside chores that require muscle movement are key, particularly for boys. Maybe my son is different, and he's only 16 months, but he is much more physically active and adventurous than my daughter and I hope to use some of that energy to benefit the whole family.
This day in age there are so many things to do indoors it can seem pointless to go outside. Though technology makes the world go round I think it's so important that we don't let our children forget about the basics. Food doesn't just come from the grocery store. The yard belongs to everyone and there is pride from maintaining a nice looking property. Plus, sometimes, it's just plain old fun to go outside and get sweaty!
Want to learn your parenting style?
Each of us have our own personality, temperament, and giftings. And, the truth is, we parent best when we work with these instead of against them. Take this assessment so you can work to your strengths, and be the mom you want to be for yourself and your children.