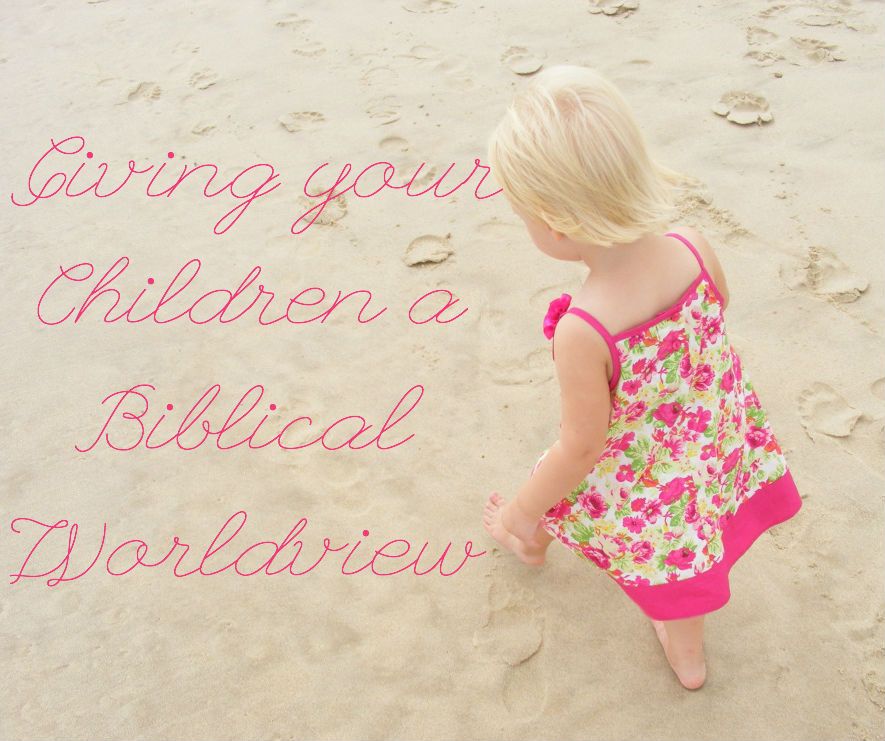 I am a thinker. An over thinker actually, and normally that is not helpful. But what can I say? It does give me many opinions because I've thought over many a thing. Lately, I've been thinking about, and speaking about with friends, the idea that our worldview is very important. As in, what we think about God and life and how God does or doesn't work in life, can have a profound impact on how we handle situations both in our actions and with our emotions. If we think that God only has our best at heart, we are right! If we think that means He'll never allow anything bad happen to us, will we be able to stick it out with Him when the going gets tough? If we think that by living a "perfect" life we will always get what we want, how will we cope with inevitable disappointment?
I believe that giving our children a biblical worldview that says something to the effect of "In this world there will be trouble, but Jesus has overcome the world" we are setting them up to succeed. It is not that having Jesus as our Savior means we never have problems, but that because He is our Savior we are able to rise above and overcome our problems in faith and trust. By protecting them from everything unrosy and unintentionally conveying that as children of God we are immune to hard times, we are setting their faith up for a very tough ride. 
(1) There will be trouble + tribulation.
John 16:33 leaves us in little room for doubt about what to expect now and again here on earth.   Of course we do not need to scare our children, teach them to be pessimistic or cynical or on the lookout for trouble, but we simply need to be careful to not paint an "everything is always fine" picture for them. By allowing our children to get a realistic worldview (and I do mean age appropriate here, of course) we give them a chance to develop spirits that will overcome.
Strength and perseverance of our faith (and realization of God's faithfulness) come through endurance of trials and suffering. Helping our children through their own small trials (though I can assure you, they won't seem small to your child) we can show them that a problem is not the end of the world, but simply a chance to see God move and to learn to shine.
(2) Use everyday situations as opportunities for training. 
My favorite Birth Order Book author uses an example of teaching children consequences in his book Making Children Mind Without Losing Yours. He says when his children were young and they would be in the car as a family  [get this] he'd show them roadkill as an illustration of what can happen when crossing the road without looking. A bit morose, I'll grant you that, but highly effective. He says to be careful not to scare them, but the danger of getting hit by a car while crossing a busy road carelessly is actually fairly high. It is a real life, undeniable and grave example.
Problems with friends at school, neighbors, difficulties in learning, death of family members,  and sibling rivalries are all examples of situations where you can begin to teach them a biblical worldview. What do we do when others are against us? What do we do when facing persecution? Do we turn tail and run when we are challenged? We should act with wisdom and try our best to honor God. We cannot be perfect nor does God expect that from us. God is ever-present, all-knowing, full of love (because He is love), and has our best interest at heart!
He won't prevent a bad thing from ever happening to us, and He is not in heaven waiting around to fix the problems we make in foolishness, but He is an ever-present help in times of trouble. He gives wisdom without finding fault (James 1:5) and can be called upon when we need Him. By helping engage our children in prayer and listening to God, we can teach them to depend on Him and His faithfulness. This lesson, if learned early, can probably save them quite a bit of trouble that would want to come their way.
(3) Know the difference between protection and sheltering. 
I wrote on the difference between protection and over-protection here, but in this context I believe it's important we protect our children while not sheltering them. Protect them from harm, danger and early exposure (or exposure at all) to things that are damaging and defiling, by all means. Protect them from bullies and bad health as much as you can. However, sheltering means – in a nutshell – preventing them from seeing and understanding reality in an effort to put off the inevitable clash between the innocent world of a child and the big bad world of the adult.
We can protect them while still explaining – gently and appropriately in alignment with their age – how the "world works." And by world, I don't mean the world apart from God, I mean the world we live in with God. The world we are to be in but not of! This doesn't mean showing devastatingly sad videos or exposing their young minds to things that will traumatise them, but simply explaining in simple and easy to understand language things like "Here we are so blessed to have a lot of food on the table, wasn't dinner yummy? You know, in other parts of the world people don't have enough food to eat. God is very concerned with these people and it's important we help them in any way we can."
(4) Know that preparation beforehand will prepare them to handle negative situations with some knowledge. 
Often, our tendency as mothers is to avoid certain subjects until we are forced to deal with them. I think that in the same way an ounce of prevention is worth a pound of cure, a little bit of preparation goes a long way in helping a child deal with troublesome issues. I saw a book called Little Girls Can Be Mean: Four Steps to Bully-Proof Girls in the Early Grades. You better believe I'm buying this book. Being able to give your children wisdom beforehand on how to handle situations will give them some confidence and assurance in their own ability to meet life's challenges. Waiting until they're confronted with a bad situation and, possibly already very intimidated and shocked by it all, is not a good time to begin the training.
(5) Pretending life is always great will give them little opportunity to grow in faith. 
Plus, it's just a lie. When your children are worried or feel down is a great time to turn them towards God. Lisa Bevere tells a story in one of her books where she was taking a shower and trying to get some alone time. One of her sons kept knocking on the door asking her to help him find his toy. After a few times, she felt God say to tell her son to pray and ask God where the toy is. She didn't want to because she was worried that if God didn't answer then her son wouldn't want to pray anymore. Finally she relented and told her son to ask God where his toy was. Then, after a few minutes, her son said [paraphrase] "Don't worry, mom, I've got the toy now. I prayed and God showed me it was on top of the bookcase." Ha! What a privilege to be able to turn our children's hearts towards God and know that He is far more concerned they trust in Him than we are. Sheltering them from reality does not give God a chance to shine in their lives.
How do you try to give your children a biblical worldview?
I've created a free email series just for you! Mothers have a hard job. It's a privilege and a joy, but the days can be long and life can make us weary. This email series is a 15 day devotional (all encouragement, no homework) that includes a Scripture, thought, and prayer. Countless women have said it was, day after day, the right word in the right season.
Click here to sign up for my free email series or simply click on the image below.