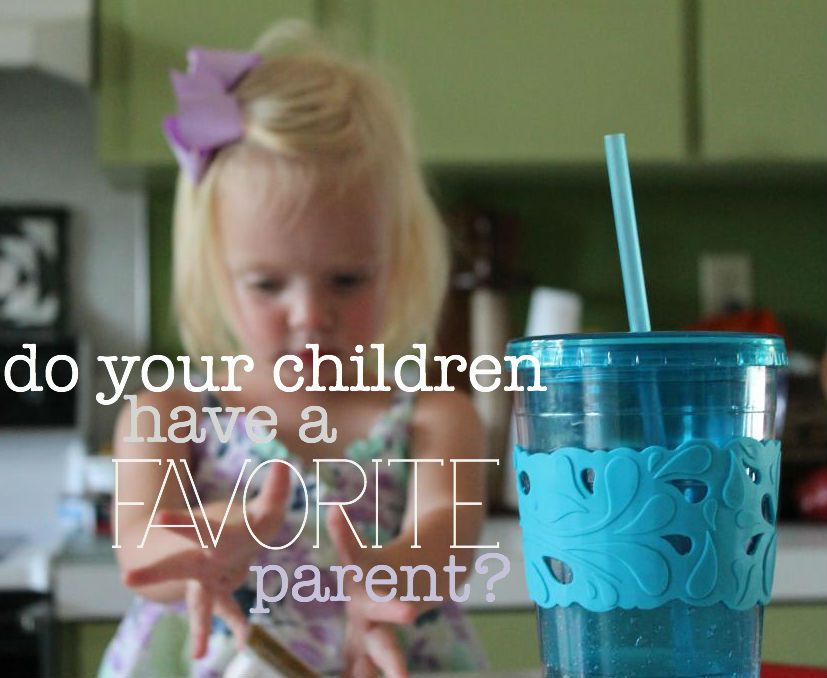 This article written by me was first posted on The Graceful Mom. 
I've previously written a post called Do you have a Favorite Child, so I thought I'd take the opposite spin this time. Does your child have a favorite parent? This is a hard question to ask, a hard thing to think about, and so close to the heart. We mothers give so much to our children from conception to graduation and beyond. Pregnancy stinks then we're up all night then we pour blood sweat and tears into our children. How do we handle it when our children show preference for the other parent?
I think there are so many factors to consider here and we can't be quick to fall into despair about the whole thing, but if we consider a few factors from the get go it might help us to walk wisely in this area. 
(1) Gender differences. From birth to a year or so I'd say that most babies probably prefer their mothers, no matter the gender. After all, mothers feed and spend the most time with the infant day and night. They recognize their mother's voice and smell and no one bats an eye if the baby immediately calms when placed in the mother's arms. However, much to a mother's dismay, this can begin to change sooner than we'd like. I read a great article where one mother said she encourages her sons to bond more closely to their fathers around 18 months of age and, often, she has to push them there. Boys need their dads to be affirmed in their masculinity and to learn the things that a man "needs to know." Girls will probably stick closer to their mothers as their interests and tastes begin to align. This is normal and I believe healthy.
(2) They go through phases. In our house we have been through phases where the children wanted only me, only my husband and even only nana. Sometimes they arise because someone has been notably absent and they are missing that person. Sometimes they arise because they've spent a lot of time bonding with one particular person, and sometimes they just happen. I've noted that when my children are sick or feeling vulnerable and insecure they want me. This happens particularly at bedtime. On a normal day anyone can put one of the kids to bed, but if they are feeling sensitive then they'd prefer me.
(3) Don't make one the bad guy. We have always tried to evenly distribute the discipline measures around the house. Remember where I told you the 7 words a mother should never say? If you don't utter those words you'll stop your children from seeing the dad as the disciplinarian only. If I see the bad behavior and put a child in time out or take away a privilege, then I'm the one to carry it out or get them out of time out. If I put the child in time out and my husband goes to get them – and we do this on a consistent basis – it looks like I'm the jailor and my husband is the rescuer. This is to be avoided. Getting on the same page discipline wise will really help prevent the good cop bad cop scenario.
(4) Personality differences. Just as there are different personalities we get along with best and those we tend to clash with, so will it happen with our children. Luckily, we don't need to be like our children to have healthy and loving relationships with them that will (hopefully) last long into adulthood. In fact, most of my dearest friends are not at all like me but the opposite. I do think that children may tend to get along more easily with a parent that holds a similar disposition to themselves. It doesn't mean they don't love you, just perhaps that being together requires more work. I also have friends who are strong-willed and who have strong-willed daughters and often find themselves in power struggles. This is simply a result of personalities meeting. If we listen to our children, make them feel loved and accept them for who they are then we are laying a foundation for a healthy relationship. We can't make our children be our best friends, but we can treat them as individuals.
(5) They're made to need both. Ultimately, we were made to need both our mothers and our fathers and the strengths they bring us. Mothers nurture and fathers bring security and belonging. I think that in a healthy family that is trying their hardest to love and accept their children for who they are while still maintaining a good strong sense of family values and priorities the favoritism will be limited and temporal. Some "daddy's girl" and "mama's boy" tendencies, I believe, are natural and probably do not cause any painful feelings for the opposite parent. The kids will come to me for some things and to my husband for others. I bring comfort and meet many needs. My husband is fun and great at playing and bringing excitement.
If you are feeling that your children favor the other parent, don't fear. Love them, accept them, don't push them and let them be who they are. Require their obedience and respect. Then after all else, know that they are made to want and need your love and when it matters most, they'll come looking for it.