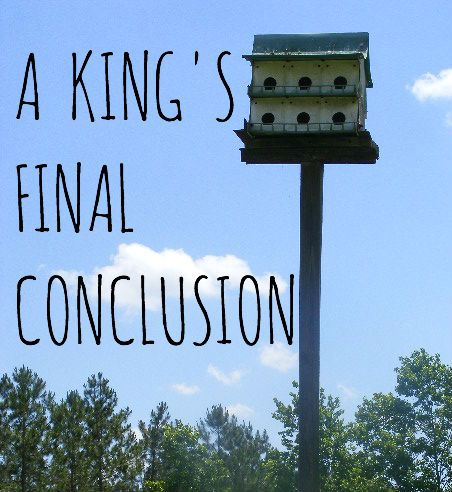 I heard a sermon a month ago that really stuck with me. The preacher spoke profound truths with simplicity that is often lost today. We don't always need youtube videos or sitcom snippets. We don't need illustrative songs or skits. Sometimes a good and timely foundational truth is just what we need to get back to some basics of life.
The sermon was on the end portion of Ecclesiastes 12 and referenced Solomon's decline from being the wisest on earth to turning away from God due to his choice of women. Then, there are many chapters where we read that nothing is new under the sun and what's the point of everything and who cares about anything kinda stuff. I have to say, there have been times – years even – where I have been in this mindset. What is the point of trying so hard to live a righteous life? Why does it seem (and I'm not talking self pity here, I'm talking reality) that everyone else has such an easier time of life? You get where I'm going. Wilderness type thoughts.
Then I turn it back to parenting. Our children need to know our faith is real. They need to see our spiritual decisions, struggles, victories and the triumphs that God brings in our lives. They need to know that not every day is perfect and just because we have faith doesn't mean that it isn't tested by hard times. And our kids, though they hopefully walk the Christian path themselves, may surely do an Amish rumspringa themselves. Knowing this may happen and knowing that one of our goals as parents is to reveal God to our children, I think we need to take home King's Solomon's final conclusion in Ecclesiastes 12:13..
"That's the whole story. Here now is my final conclusion: Fear
God and obey his commands, for this is everyone's duty."
What can we learn from King Solomon's conclusion?
(1) Having everything does not equal happiness. 
Though Solomon had all the wisdom of the world, money that could buy everything he possibly wanted, and enough women to last a whole year, he was not happy. Material possessions do not equal happiness. Sure, some material things make life easier and life being easier often equals happiness. I'm not talking about microwaves and blenders here. I'm talking about the love of money so it can buy us nice things. I've written on When Having Material Things becomes Materialism. I think it's very important we don't deprive our children of things just to 'teach them something' and on the same hand that we don't give them so much that find it difficult to understand the value of money. I can't count the number of times I've wished for something only to receive it and think, "hmm, well, that's nice." I hope I can teach my kids this early on.
(2) Knowing everything does not equal happiness. 
I told my small group one time that I felt I had the curse of always thinking I'm right all the while knowing that it is completely ridiculous. Letting someone else take the reins on something that is very important (and which will greatly affect me) is very difficult because I just feel safer if I'm in control. So, it's as though I think I know everything and that everyone else doesn't and therefore, it causes me anxiety. It is totally absurd. I am working on it. However, I'm no Solomon. He actually had all the wisdom of the world and yet was not happy. How can this be? Well, I suppose it's not enough to know something if we don't put it into practice.
(3) Going through struggles does need not to equal loneliness. 
I'm not sure if it's social media or the internet, but it seems like we expect a lot more of ourselves these days than people did decades ago. As in, self-comparison wise, we have so much more with which to compare ourselves. Pinterest, Facebook, Instagram and all these people who throw all these amazing color coordinated parties with washi tape all over the place and cupcakes that have fondant that took more hours to make than diet cokes I drank last week. It is enough to make you feel inadequate and frumpy before you even get out of bed. We just need to be real and say, you know what, everyone goes through things. Everyone struggles. It is not a sign of weakness or of being out of favor with God. It is a sign of being human. If we can admit we need help, seek our those in our life who will be our support system, and genuinely let them comfort and help us for a time, we will move into another season. Raising young children can be a very challenging time, but there are so many mothers going through it just as we are!
(4) Focusing on ourselves does not equal happiness. 
There is a term I heard when I moved to England called 'naval gazing' and it means to sit around and focus on yourself. Some of this is healthy and contributes to self-awareness and therefore the ability to improve one's self and go forward meeting your own personal goals. Too much naval gazing, however, will inevitably turn towards fault-finding and/or self-adulation and will not make us happy. Contentment and satisfaction come, I believe, from having a healthy view of self and from having a healthy focus on God and others. If I focus on my children, my work, my calling or my hobby throughout the day then I can end the day fulfilled. Indulging yourself, setting no limits or boundaries for yourself, allowing all of your desires and momentary impulses to be fulfilled is a surefire way to be miserable. That's called giving yourself over to your flesh.
(5) True contentment and purpose can be found through God alone. 
The point I drew from this is that fearing God and following His commands is pretty much the only way to find fulfilment and purpose in this life. As you do that your individual purpose and God's will for you will be unfolded. You won't have been so focused on your own 'calling and destiny' that you forget the poor, the needy, the widowed, the orphaned and the sick. God talks about those people a lot. A lot more than he talks about you praying and fasting to step into your calling. Not that I'm knocking it, of course we should all do what God created us to do. I just happen to think He created us to worship Him and show His love and salvation to others. The rest of it will just make us mixed up and we won't be able to see the forest for the trees.
Getting back to basics is what I think that verse is about. It's what I think Ecclesiastes is about. Life can be complicated. Yet really, life is simple. There are things that are eternal and there are things that are not. Balance is key and fearing God and following Him is a win-win scenario. The spiritual life is not always easy. The natural life is not always easy. There are seasons of joy and sorrow in both, but I believe that if we focus on God and learn how to be thankful of His blessings and trusting of Him then we'll be able to transfer that to our children.
Do you find Ecclesiastes encouraging or depressing? Why?
I've created a free email series just for you! Mothers have a hard job. It's a privilege and a joy, but the days can be long and life can make us weary. This email series is a 15 day devotional (all encouragement, no homework) that includes a Scripture, thought, and prayer. Countless women have said it was, day after day, the right word in the right season.
Click here to sign up for my free email series or simply click on the image below.